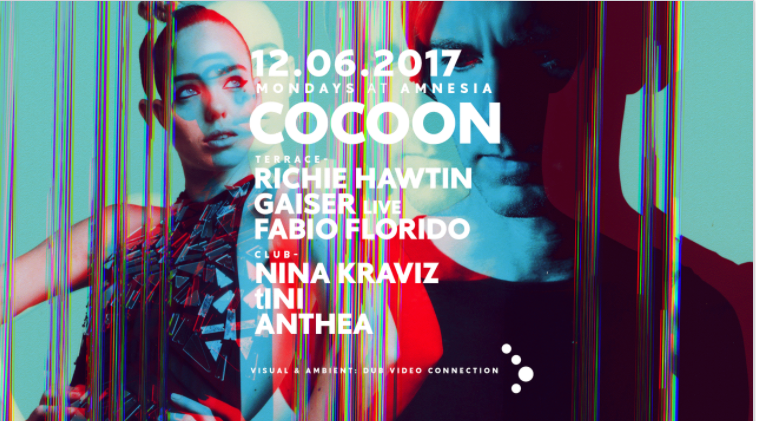 Hola a todos!
Last Monday Cocoon opened the doors to season 18 and it was nothing short of magical. The club room was in a frenzy from beginning to end as Dorian, Ilario and Nina did it proud.
In the Terrace, we danced with DJ Koze followed by the master Sven Väth who took us until the sun beamed through the ceiling with an energy like no other.
Below, you'll see photo highlights of the opening party and the full June calendar in all its glory.
With an impressive list of residents that boasts the likes of Sven Väth, Ricardo Villalobos, Richie Hawtin, Adam Beyer, Nina Kraviz and Ilario Alicante, it's no wonder Cocoon is still clearly leading the techno charge on the island 18 years in.
So if you are heading to Ibiza in June we recommend you join us, because, on a Monday, nobody does it better.
If would like to cover or attend any of the dates listed below, please get in touch.
GRAND OPENING HIGHLIGHTS
Monday 5th June 2017Terrace: Sven Väth, Gerd Janson
Club: Adam Beyer, Patrick Topping, Dense & PikaSven is back to create more magic moments on the Terrace and this week invites the brilliant Gerd Jansen to first pave the way for his only Amnesia date of the summer. Do not miss!Back for seven dates this summer is Adam Beyer, he truly is one of Cocoon's finest, and his debut date for the summer is not to be missed. Joining him is recent Mixmag cover star Patrick Topping and UK techno legends Dense & Pika.
Monday 12th June 2017Terrace: Richie Hawtin, Gaiser Live, Fabio Florido
Club: Nina Kraviz, tINI, Anthea

Richie Hawtin is back with his Cocoon family for more than one date this summer, yes that's right, he will play five! There is no way you want to miss this debut date, especially as he invites his M-nus compadres Gaiser and Fabio Florido to join him. 

Nina Kraviz is back for her second of five dates this summer, and this the follow up to a stunning opener. tINI plays the first of four dates, and with UK selector Anthea plays her debut. What a trio!
Monday 19th June 2017

Club: Sven Väth, Mano Le Tough
Terrace: Ricardo Villalobos, Sonja Moonear, Martyné b2b Bodin & Jacob

Week four and Papa Sven switches rooms to make his season debut in the Club. This time he invites Mano Le Tough to join him for his only Cocoon date of the summer.Ricardo Villalobos's Cocoon Ibiza debut Terrace date is the moment we all love and wait patiently for. This will be the first of six terrace takeovers for Ricardo, and who better to join him for the first than one of the planet's finest selectors Sonja Moonear, and emerging talents Martyné b2b Bodin & Jacob.
Monday 26th June 2017 
Terrace: Sven Väth, Acid Pauli
Club: Ilario Alicante, Josh Wink, Konstantin
Sven Väth meets Acid Pauli in the Amnesia Terrace. Wow. Acid Pauli has fast become one of Ibiza's most exciting new resident's and joining Sven on the Terrace will showcase the merging of two of magical minds.Ilario Alicante is back for his first date since his impressive start to the season at the opening. Joining him is long time Cocoon legend, Josh Wink, and warming things up first is Konstantin.
COCOON THURSDAYS AT TIPIC FORMENTERA 
Don't forget Cocoon Thursdays at Tipic on Ibiza's sister island Formentera. The line-ups are revealed weekly so keep those eyes peeled!
Cocoon has always owned Monday night as you know but the intimate Thursday nights are now part of the picture.