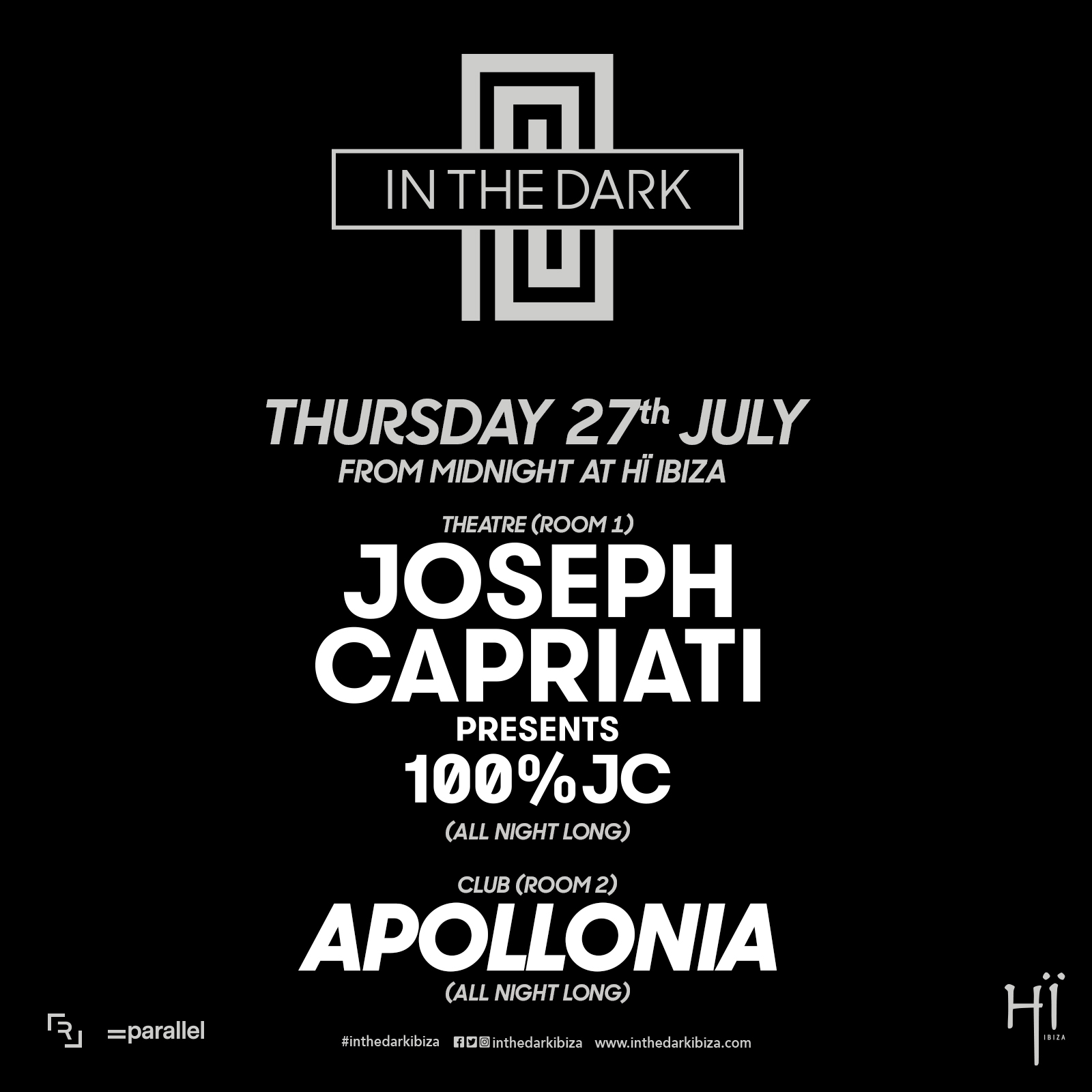 Hï Ibiza announces a one of a kind In the Dark party on Thursday 27th July, that will see Ibiza favourites Apollonia take over the Club and play all night long.
Parisian techno collective Apollonia will bring their unique energy and strict one record each concept to the Club, in what will be the trio's only all night long set at Hï Ibiza this summer.  Renowned for their back2back2back spectaculaire, the DJ outfit from Shonky, Dan Ghenacia and Dyed Soundorom, never fails to take the dancefloor on a journey with their extended sets, which are undoubtedly their favorite musical playground. Their Hï Ibiza debut is certain to be a season highlight that will thrill fans and Ibiza regulars alike.
As previously announced, the Theatre will play host to Joseph Capriati on 27th July for one of his renowned 100% JC nights. Having the whole night stretched out ahead of them will give Capriati and Apollonia the space to really experiment and express themselves creatively. With these extended sets, the night will evolve naturally and take the crowd on a journey to remember. This night promises to be nothing short of special.
Book your place now at ibizaconcierge.one
About In The Dark
The Night League, the creative team behind Hï Ibiza, present 'In The Dark'. Spearheading this Thursday night residency are five of the underground house & techno scene's most respected acts (in alphabetical order) – Joris Voorn, Kölsch, Luciano, Nic Fanciulli and Steve Lawler.
All five residents have a strong bond with the White Isle, previously heading up several of Ibiza's best-loved and longest running parties, as well as headlining many memorable parties at the hallowed Space Ibiza terrace and main room. Along with The Night League, the five forward-thinking artists are committed to ensuring Ibiza´s support of underground club culture endures. With the club as a blank canvas for them to create something truly unique, a cutting-edge roster of talent joining them every Thursday from 8th June – 28th September, and some incredible plans in place, In The Dark is set to be one of the biggest parties of the summer.
About Hï Ibiza
This summer Ibiza enters an exciting new chapter with the much-anticipated launch of Hï Ibiza,  the brand new superclub by Ushuaïa Entertainment. The club formerly known as Space has been elevated to new heights, with a fresh new look and the most advanced sound and technologies on the island.
Hï Ibiza unites the highest standards of music and entertainment, bringing world-class music experiences to a club designed with the dancer in mind. This state of the art club will showcase the most exciting names in electronic music throughout the summer, from the biggest stars in the scene to the leading lights of the underground, continuing the island's legacy as the party capital of the world.
"Hi" is a small word that can be the beginning of a meaningful conversation or the start of a beautiful friendship that can lead to a bigger world of discovery. "Hi" is a welcome to a new era in Ibiza
The journey begins with 'Hï Ibiza'
THE NIGHT LEAGUE PRESENT IN THE DARK
Every Thursday from 8th June – 28th September
Tickets from 45€ available at One Ibiza Concierge
8th June 2017
Kölsch | Joris Voorn | Housekeeping | Steve Lawler | Nic Fanciulli | Bas Ibellini
15th June 2017
Luciano | Nic Fanciulli | Emanuel Satie | Joris Voorn | Steve Lawler | More TBA
22nd June 2017
Steve Lawler | Luciano | Lauren Lo Sung | Nic Fanciulli | Joris Voorn | More TBA
29th June 2017
Joris Voorn | Nic Fanciulli | wAFF | More TBA
6th July 2017
Nic Fanciulli | Richy Ahmed | Steve Lawler | Solardo | More TBA
13th July 2017
Nic Fanciulli | Steve Lawler | Anek | Joris Voorn | Art Department | Housekeeping
20th July 2017
Kölsch | Joris Voorn | Steve Lawler | Nic Fanciulli | Claude VonStroke | More TBA
27th July 2017
THEATRE: JOSEPH CAPRIATI  presents 100% JC | CLUB: APOLLONIA – ALL NIGHT LONG
3rd August 2017
Steve Lawler | Nic Fanciulli | Lauren Lane | Joris Voorn | Art Department | Bas Ibellini
10th August 2017
Luciano | Joris Voorn | Solardo | Nic Fanciulli | Steve Lawler | Bas Ibellini
17th August 2017
Kölsch | Cassy | Housekeeping | Steve Lawler | Patrick Topping | Solardo
24th August 2017
Joris Voorn | Kölsch | Anek | Cassy | Housekeeping | More TBA
31st August 2017
Nic Fanciulli | Steve Lawler | Kölsch | Joris Voorn | Lauren Lo Sung
7th September 2017
Luciano | Nic Fanciulli | Mark Fanciulli | Joris Voorn | Steve Lawler | Solardo
14th September 2017
Joris Voorn | Kölsch | Cassy | Steve Lawler | Skream | Bas Ibellini
21st September 2017
Luciano | Nic Fanciulli | wAFF | Joris Voorn | Solardo | Housekeeping
28th September 2017
Nic Fanciulli | Joris Voorn | Steve Lawler | More TBA